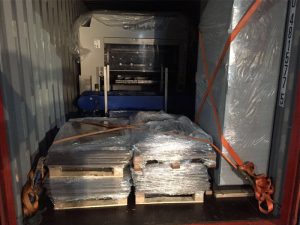 Moving heavy or delicate machinery can be a daunting task without the right equipment or know-how, especially if they're vital for your business.
The Emcon team regularly use their machinery relocation expertise for loading and unloading machinery from shipping containers throughout the UK and Europe.
Tailored loading and unloading
Our container services can be used to load or unload all varieties of containers, including open top, high cube, FCL and LCL, standard, 20ft – we've loaded them all! We can tailor our service to suit the client's budget as well as to the sensitivity of their machinery. We advise our clients on different types of corrosion protection, as some clients require full vacuum packaging whereas others need simple loading and securing to the container floor.
At Emcon, we use the most practical and safe machine moving and rigging equipment available to ensure your machinery is moved as securely as possible. Our specialised fleet includes container-spec forklift trucks (low masts), Hiab cranes, and mobile cranes. We can also load containers that are placed on the floor for collection at later dates. Whatever the specific requirements of your machines, we can handle them.
The pictures in this post show some container loading projects we have recently completed in the UK, Europe and the Middle East. For each of these projects, we also supplied the complete dismantling of the machine bases and timbers.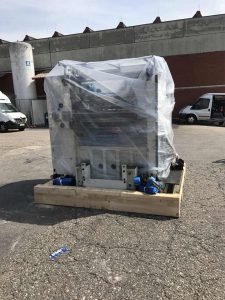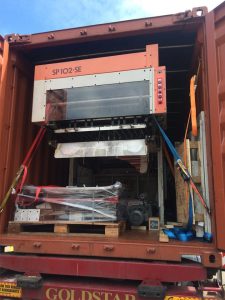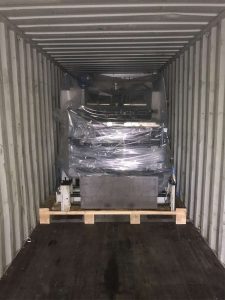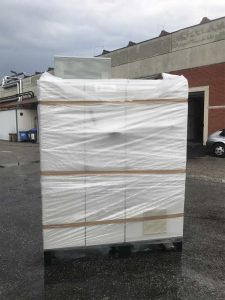 More than just loading and unloading
Our services extend beyond the simple act of loading and unloading. We offer packaging and rust protection, ranging from light oil to full vacuum packaging. On some occasions we have offered freight forwarding and supplied engineers and technicians to assist with the full recommissioning in America, South America, Canada, and Asia. No matter how demanding the needs of your machinery move, our container services go above and beyond.
When we load containers, we always supply comprehensive packing lists to assist with customer freight forwarders, and we can organise all required documents so that the machinery arrives at the final port or destination. We can even install the machines when they get there.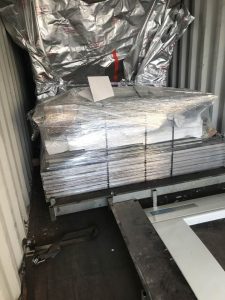 We also offer the same complete services with trailers destined for or coming from Europe. Call us today on 0115 870 5071 to find out more.
Expert container unloading business
Contact Emcon Services for professional and expert solutions for moving any type of machinery. We have specialist engineers available for all sectors including Print & Packaging, Engineering CNC and conventional, manufacturing lines, plastics, and fabrication workshops, to name just a few.
We review each project carefully, providing all the Health and Safety documents required, and most importantly we work to what is written in them. Each Project is assessed on its own merit – we don't bombard projects with hundreds of thousands of pounds worth of unnecessary equipment and personnel. Each project is meticulously planned so that the right amount of resources are on site to complete jobs safely, efficiently and to a high standard.